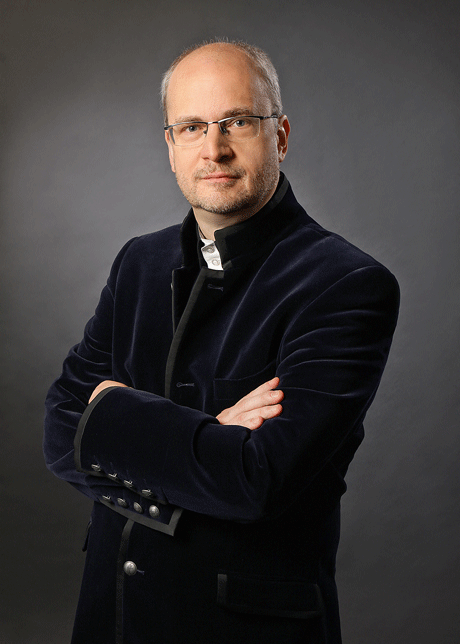 Thomas Hennig was born in 1964 in Hanover. He began his musical education at the Hanover University of Music and Drama where he obtained his diploma and then continued his studies in musicology and philosophy in Osnabrück. Master classes in conducting with Prof. Österreicher in Vienna (Austria), Prof. Schieri in Munich, and Prof. Huegler in Biel (Switzerland) followed as well as conducting the South Czech Philharmonic in Ceske Budejovice (Czechia) and directing the Stadtsingechor zu Halle, a boy's choir.
From 1992 to 1998, he was permanently engaged at the Brandenburg Theatre as choir and music director, and also directed the Brandenburg Chamber Choir from 1994 to 2004. Various scholarships and commissions for new works, both nationally and internationally, led him to travel to the United States, Brasil, Antalya (Turkey) and elsewhere. For two years he was both choir and music director for the Antalya State Opera.
Since 2005, he has been teaching at Berlin University of the Arts and in April of 2008 he succeeded Gert Sell as artistic director of the Berliner Oratorien-Chor.
Thomas Hennig is chief conductor of the New Prussian Philharmony since 2012, and Vice-President of the Berlin choir association, Chorverband Berlin since 2013.
In 2014, Thomas Hennig conducted Benjamin Britten's War Requiem in a concert commemorating the beginning of World War I at Berlin Cathedral under the auspices of the Federal Minister of Foreign Affairs, Frank Walter Steinmeier.
Since 2014, he also leads the department for conducting (university preparation) at the Paul Hindemith School of Music in Berlin-Neukölln.
In 2015, Thomas Hennig was commissioned by the Max Planck Society to compose a piece for the commemoration ceremony '100 Years of Chemical Warfare' held in Berlin. In February of 2017, he directed the world premiere of Harald Weiss' Ode an die Nacht during the Chor@Berlin festival organised by the German choir association, Deutscher Chorverband.
Find out more about Thomas Hennig at http://www.thomas-hennig.com